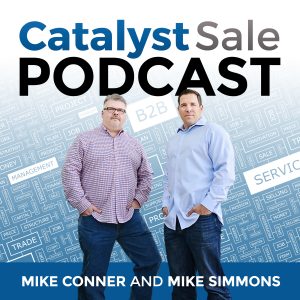 Special Episode – Lessons learned in Podcasting with Jody, Mike & Mike
We launched our podcast in October 2016, and we have learned a lot since the launch.  We originally started recording in June, to build up our backlog of content.  It was important to us to be consistent in the delivery of content.  We have delivered new episodes on a weekly basis since the launch, and will continue to do so.
We could not have executed on this endeavor as well as we have, without Jody MaBerry's partnership.   Jody has provided technical guidance, professional guidance, and has helped us improve our capabilities throughout the journey.
This week on the Catalyst Sale Podcast we discuss why we started the podcast, what we have learned along the way, and what's to come.
Questions Discussed
What have we learned?
How does the Podcast fit into the Catalyst Sale Process?
What is Sales?
Why Podcasting?
Click Here to see our additional Catalyst Sale Podcast Topics
Key Takeaways
Nerves got the best of us early on, we finally found our stride when we went off script.  Over time we have gotten more comfortable.
We have received great feedback on the many guests we have had on the show.  In hindsight, we would have invited guests early in the process.
Consistency is critical – it helps build set expectations, build trust, and has helped us continue on on a positive growth curve.
Find the right partner, there is no need to go it alone.
Be yourself, don't try to be someone or something else.
We chose podcasting as a way to document our journey, share best practices with the broader community, and create a knowledge base of information that we wish was available to us when we started our careers in sales. We hope you find the content, interviews, and resources valuable.
Thank you
Thank you for rating and reviewing the podcast via iTunes, Google Play, or your favorite podcast platform.  Ratings & reviews help others discover the podcast – thank you for helping us get the message out to the community.
Please send listener questions and feedback to hello@catalystsale.com or contact us directly on twitter, facebook or LinkedIn.
Catalyst Sale Service Offerings
Growth Acceleration – Plateau Breakthrough
Work with us
——————————-
Subscribe to the Catalyst Sale Podcast
Catalyst Sale
In every business, in every opportunity, there is someone who can help you navigate the internal challenges and close the deal. There is a Catalyst. We integrate process (Catalyst Sale Process), technology and people, with the purpose of accelerating revenue. Our thoughtful approach minimizes false starts that are common in emerging markets and high growth environments. We continue to evolve our practice based on customer needs and emerging technology. We care about a thinking process that enables results versus a process that tells people what to do.

You can find us via LinkedIn, Twitter, & The Catalyst Sale Website on the links below