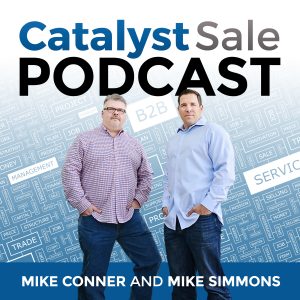 "One of the advantages of partnerships…together you are stronger" – Jen Spencer
Jen Spencer, VP Sales and Marketing – SmartBug Media, joins us on the Catalyst Sale Podcast this week to discuss partners.  She brings her insight to the podcast, and discusses important concepts to keep in mind when identifying partners.  Mike & I also share our experience both from the perspective of an organization looking for partners, and as a partner working inside organizations.
Jen is a wealth of knowledge, we hope you enjoy the discussion.
Determining if a Partner Approach is the Way to Go
Focus on the business outcome.  Are you looking to expand to a new market/vertical? Are you looking to expand the size of your team? How do you plan to grow?  What's the risk in testing new markets?  What's the risk in hiring too fast for an emerging market? Is there a benefit to "buying" experience, instead of building capability internally?  These are a number of the questions you should consider as you think about your objectives, and begin to design your plan.
Partners can deliver experience and expertise in verticals and geographies.  They also can provide direct access to a network of potential customers, where your product has the potential to add to their current solution.
Identifying Good Partners
A good partner is one where you can clearly identify a fit with your culture and their culture.  A good partner understands your product fit in the context of their market expertise, and their customer base.  Strong partnerships are built on a foundation of trust and mutual respect for objectives of each other's organization.
Leverage your network, ask for referrals, check with referrals, and ask to speak with existing customers.  Customers can provide insight into what it is like to work with the partner.
When is it Time to Exit a Partnership
Like any relationship, partnerships may run their course. Once you have identified that the partnership is no longer beneficial to both parties, you should consider your exit strategy.  An exit from a partnership should be handled with the same level and care that you took in the onboarding process.
The exit should never become the problem of the customer.
What Should a Partner Onboarding Program Include?
Onboarding a new member of your sales team is critical when you consider the potential for their success, or risks associated with failure.  Treat your partner onboarding program with the same, if not higher, level of respect.  As Jen mentions in the podcast, partners should have access to the same resources your sales team has access to. They are an extension of your team, treat them like part of your team.
Don't forget that you are likely one of many things your partner reps have in their bag.  FAQ information, access to a customer success representative or account manager, sharing best practices and case studies, are some of the assets that can help your partners improve success. Remeber – their success is your success.
Remember to set expectations, schedule planning, and review calls, and establish an appropriate communication cadence to keep your partners engaged.  The market continues to change.  If you are meeting with your partner once per year, or once every 6 months, the gap between what they know and what you know, will increase significantly.
Common Errors When Considering Partners
Partnerships fail when you forget to treat the partners as a natural extension of your team. Share sales enablement resources, marketing information, and data analytics.
Some organizations, when setting up partnerships, fail to consider channel conflict.  Channel conflict will happen – plan for it.  Some founders look at partners as a way to access a customer list, gain access to a network, then seek to bring those customers in house. This is a surefire way to alienate a partner and create a horrible reputation.
Think about the trades that occur with partnerships.  You, as the vendor may be trading direct access to the customer.  The partner may be trading the confidence in knowing that their organization has control over the solution, end to end.
Key Takeaways –
Begin with the end in mind (This is an ongoing theme that most listeners will recognize)
What does success look like? – Design the plan, communicate regularly, use the same cadence as with your sales team
Treat your partners like you would treat your direct sales team
Establish expectations and execute on those expectations
Continue to evaluate success and adapt the relationship as necessary.
When it comes to the "Cost of a Partnership" – You get out of it what you put in.
Partners can accelerate your path to growth.  They can open up new markets, and provide an opportunity to test feasibility and fit.
Show Links
Plateau Breakthrough
Are you an organization generating between 10 and 250M in annual sales?  Has growth slowed?  Do you know how you will break through your current plateaus?  Catalyst Sale has established process to help with this.  Contact us today to learn more.
If you have questions about the Catalyst Sale approach, how we help organizations validate and identify product market fit and break through plateaus, you can reach us at hello@catalystsale.com
Thank you for sharing this episode.  If you like what you heard, please provide a rating and/or review via Apple Podcasts, Google Play Music, Stitcher, or your favorite podcast app.
Please send listener questions and feedback to hello@catalystsale.com or contact us directly on Twitter, Facebook or LinkedIn.
———————-
Subscribe to the Catalyst Sale Podcast
Click Here to see our additional Catalyst Sale Podcast Topics
Catalyst Sale Service Offerings
Growth Acceleration – Plateau Breakthrough
Catalyst Sale
In every business, in every opportunity, there is someone who can help you navigate the internal challenges and close the deal. There is a Catalyst. We integrate process (Catalyst Sale Process), technology and people, with the purpose of accelerating revenue. Our thoughtful approach minimizes false starts that are common in emerging markets and high growth environments. We continue to evolve our practice based on customer needs and emerging technology. We care about a thinking process that enables results versus a process that tells people what to do.

You can find us via LinkedIn, Twitter, & The Catalyst Sale Website on the links below