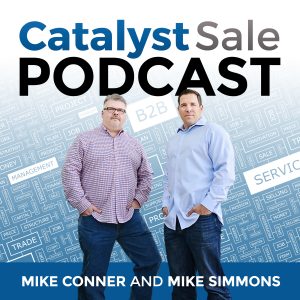 Product Market Fit 
This week's episode is the first in a series highlighting the Catalyst Sale practice areas.
Catalyst Sale works with organizations to determine Product Market fit before making investments in expensive sales resources. We help validate your sales readiness and build out your initial sales strategy.
We do this via a 60 to 90 day engagment, where we will…
Evaluate Product Capabilities through testing
Validate defined use cases with external customers
Deliver a Gap Analysis with and action plan
Founders/CoFounders and entrepreneurs are optimistic when it comes to product market fit. The product you have created may pass the family test, but have you been able to get customers outside of your network to purchase?
Can you relate to any of these statements?
We've identified product market fit, but…

We are not seeing adoption
Users do not stay engaged
Customers are not spending money
Metrics do not align with our original expectations

Our focus changes quarterly, monthly, weekly
We don't know where to start
We've started, but we are not making progress
As we go through the process we assess readiness.  We test assumptions, identify use cases, and test these use cases in real world scenarios outside of the bubble
Schedule a Product Market Fit Discussion
Listener questions are great, please send them to
hello@catalystsale.com
 or contact us directly on twitter,
facebook
or
LinkedIn
.
Subscribe to the Catalyst Sale Podcast
Catalyst Sale
In every business, in every opportunity, there is someone who can help you navigate the internal challenges and close the deal.  There is a Catalyst.  We integrate process (Catalyst Sale Process), technology and people, with the purpose of accelerating revenue. Our thoughtful approach minimizes false starts that are common in emerging markets and high growth environments. We continue to evolve our practice based on customer needs and emerging technology. We care about a thinking process that enables results versus a process that tells people what to do.

You can find us via LinkedIn, Twitter, & The Catalyst Sale Website on the links below