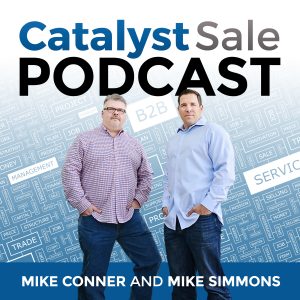 Listener Question – Customer Churn 
Churn is inevitable.  It should be considered in your business planning, as it is something most SaaS organizations experience on a monthly basis.  Other companies may track churn on a quarterly or annual basis.
What if you are a sale rep, and something happens beyond your control, and now your number is at risk?
How do you get things back on track?
What happens if you need to take one step backward in order to move things forward?
Let's say you are an Account Manager or Customer Success Manager, and you find that the Account Executive over promised, now you are under delivering.  Or, maybe the customer's perspective of what they purchased has changed.  Maybe you are dealing with a new decision maker, or there is a disconnect between the original decision maker and the team tasked with implementing.
Click Here to see our additional Catalyst Sale Podcast Topics
At Catalyst Sale, we are focused on the long game. This week a listener question draws attention to the things that happen beyond your control, and when it makes sense to recommend that a client reduces their investment with your organization.
We also review why it is important to factor in churn as you work through your budget planning process, and when is the right time to discuss it.
Catalyst Sale
Sales is a Thinking Process. Qualification, Fit, and Feasibility are core components of our sales process.  You can learn more about Catalyst Sale by following us on LinkedIn, Twitter, & via the Catalyst Sale Website.
Identify gaps in your Sales Process through an assessment with one of our founders
You can find us via LinkedIn, Twitter, & The Catalyst Sale Website on the links below